The Zipolite nudist festival 2023
One of the reasons why Zipolite has become a very popular vacation destination for nudists is because of its yearly "Festival Nudista Zipolite. What started as a gathering of the Mexican Nudist Federation has quickly grown into a world famous nudist festival, attracting naked guests from all over the world.
When is the Zipolite Nudist Festival?
The festival is yearly organised during the last weekend of January or the first weekend of February.
The 2023 edition will happen from February 2nd to 5th.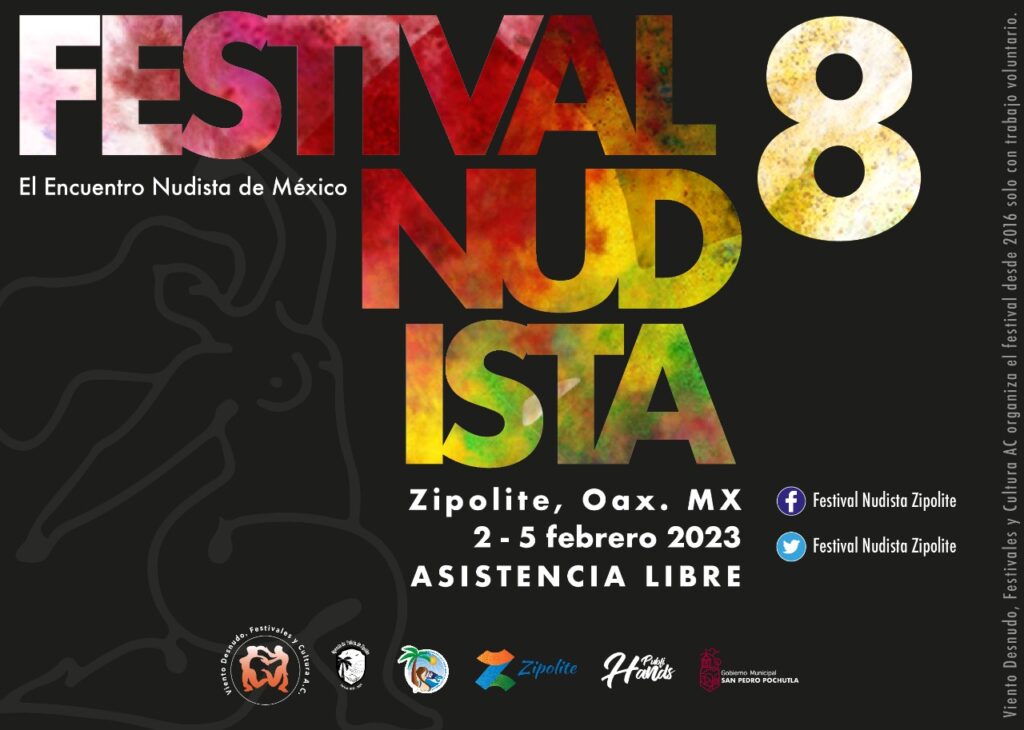 During the weekend of the festival, a whole range of activities is being organized. Every morning there's nude yoga on Shambala beach, followed by volleyball tournaments, other beach games and body painting. In the evenings are communal dinners, parties and concerts.
Most of the activities are free of charge. Several side activities like nude boat tours on the Pacific Ocean come at a fee.
Most of all, the Zipolite Nudist Festival is the perfect occasion to get together with nudists from all over the world. To socialize, meet new friends and have an amazing clothes-free weekend under the warm Mexican sun.
First time at the Zipolite Nudist Festival?
Congratulations! We're sure that you'll have lots of fun. There are a couple of things you do want to take into account though:
Hotels
The clothing-optional hotels in Zipolite typically get fully booked at least 6 months before the festival. The other beachside hotels do tend to loosen their clothing policy during the festival, so it's definitely possible to stay at one of those too. We don't recommend arriving without a room booked. There are still some places in town that don't work with online bookings, but you'll be stuck with whatever is left.
In case you can't find a decent hotel in Zipolite anymore during the festival, it's recommended to stay in one of the nearby towns.
Safety
Although Zipolite is generally a safe place to travel to, large events come with an additional risk. Make sure to keep your valuables safe in your room and don't bring them to the beach, the bars or the activities.
During the evening events at the stage, cases of harassment have been reported. If you like to party nude, it's definitely recommended to go in a group and not by yourself.
Money
It's without question that the ATMs in Zipolite will run dry. Often this already happens during the days before the actual festival starts. Make sure to stack up on pesos before arriving in Zipolite.
Fun
The Zipolite Nudist Festival is one of the greatest nudist events in the world. Don't forget to have lots of fun!