A guide to zipolite nude beach
Playa Zipolite's nude beach is not just the first and only official nude beach in Mexico. This one mile stretch of warm white sand is also among the largest and most beautiful nude beaches in Central America. Including the Caribbean.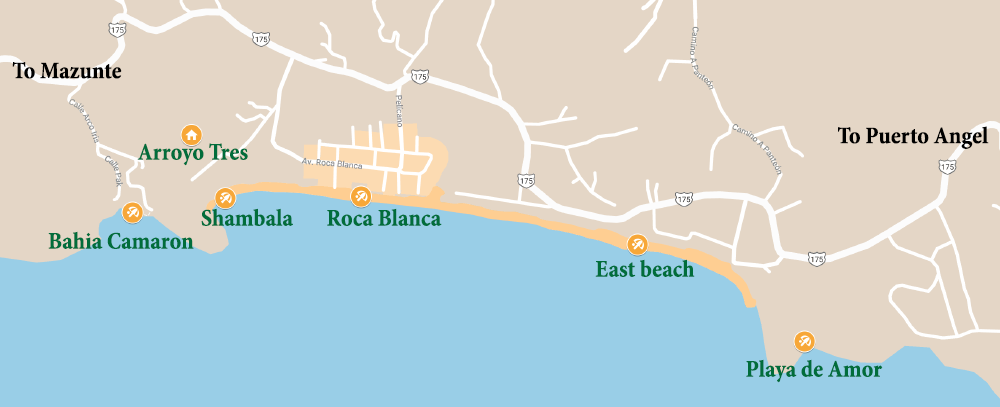 The main beach of Zipolite can roughly be divided in 3 parts: Shambala beach, Roca Blanca and the east beach. On both ends, you will find smaller coves where nudity is also allowed: Bahia Camaron and Playa de Amor.
Roca Blanca
This is the name of the white rock in the ocean that can be seen from everywhere on the beach, but also the name of Zipolite's adoquin, the town's main street. In this area you'll find most of the shops, bars and restaurants. Because the popular clothing-optional resorts Hotel Nude and Buda Mar are also located on this part of the beach, it's very popular among nudists.
Shambala beach
Just west of Roca Blanca is a small part of beach called Shambala, after the first guesthouse in Zipolite. Today, Shambala is mostly popular among surfers and yogis, as well as nudists looking for a quieter spot. In the evenings, the romantic restaurant of El Alquimista also attracts a lot of guests. 
East beach
The eastern side of Zipolite beach is significantly quieter than the Roca Blanca side. This part of the nude beach mostly attracts visitors looking for peace and serenity or for cheaper accommodation. In low season, the east side of the beach tends to run pretty empty.
Playa de Amor
Translated: Love Beach. It's a hidden cove at the far east of Zipolite beach, that can be accessed via a staircase over the hill. When the ocean is wild, Playa de Amor is often the best place for swimming. During the high season, there's also a beach bar.
In the evenings, the name of Playa de Amor tends to get honoured, and public sex is common.
Bahia Camaron
All the way in the west of Zipolite, at about a 15 minute hike from the main beach is the small cove Bahia Camaron. Technically it's not part of the Zipolite nude beach anymore, but nudity is common and tolerated. In this part of Zipolite, you'll find most of the upscale clothing-optional resorts, like Casablanca Guesthouse and Villa Aikia
Nude beach or clothing-optional beach or…?
A beach that visitors can enjoy without clothes is colloquially known as a "nude beach". Yet, there's quite a difference between Zipolite's nude beach and the nude beaches that can be found in the USA, Canada or Europe. On nude beaches in western countries, nudity is either mandatory or very much encouraged. This is not the case in Zipolite.
Zipolite rather picks up the status of clothing-optional beach. A beach where clothes are nothing but an option. Locally, the beach is called a "free beach". Reflecting the philosophy of the early western immigrants. It's a beach where you can feel free. Where you can be free. And where you are free to wear whatever you wish to wear. Even if that is nothing at all. People won't judge you for what you are or aren't wearing. Although you're likely to get more stares if you'd arrive in an Armani suit than in your birthday suit.
While Zipolite is more and more being referred to as Mexico's nudist village, it's important to know that nudity is only allowed at designated areas and definitely not in the whole town.
On the whole beach, including Playa de Amor and Bahia Camaron, nudity is allowed. As well as in the the clothing-optional resorts that are spread around town. Restaurants and bars will often require you to cover up, even if it's just with a sarong. The only exceptions are the beach bars that belong to a clothing-optional resort.
In Zipolite, respect is seen as a high value. The local community and the non-nudist visitors respect those who like to sunbathe clothes-free. For nudists, it's also important to respect the places where nudity is not allowed.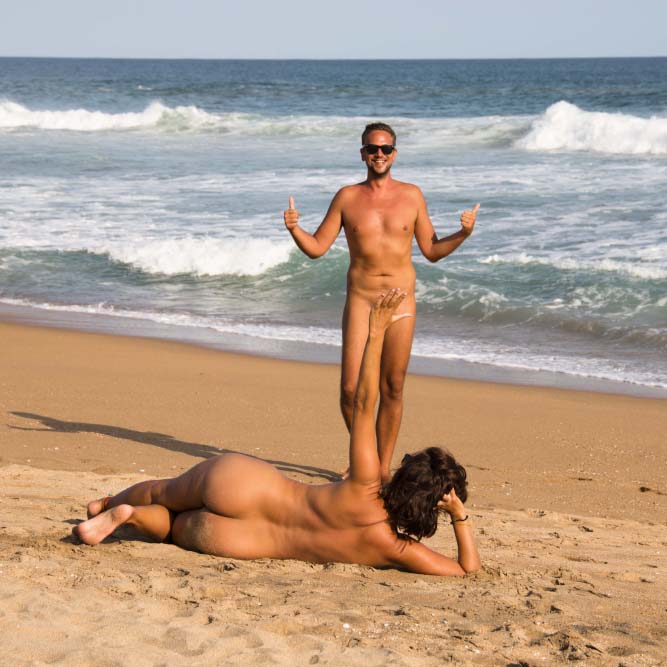 A nude beach is only enjoyable when everyone feels comfortable. Given the free spirit of Zipolite, it feels wrong to define a set of rules. Instead, here are some basic guidelines to keep the Zipolite nude beach a great place:
✅ Don't gawk.
✅ Don't take pictures of others without their permission.
✅ No public sex.
✅ Respect the comfort zone of others.
✅ Respect the clothing policies of the hotels, bars and restaurants.